A Foreword by Touché, for whom I made this website
Some months ago my love and I were talking about my 66th birthday and then he asked what I would like for gift. It was not very difficult to answer: 'a website', I said. About what? About waterfalls. And that is all I know about this gift at the moment I'm writing this text.
This is a very delicate and special piece of art. It is a love (and loving) creation from my liefste, and also a very secretive one. During these many weeks while he is busy preparing this beauty I have not been allowed to see how the website is coming out. Very discrete, he just says 'I'm happy with what I'm doing' and I am sure he is doing something wonderful.
I am sure my love made the best selection among the photos we have in order to make his gift the most beautiful and meaningful possible. I am sure I will be willing to stand in front of all these waterfalls again, reviving the excitement of the moments when we were at each of these places.
I am sure when we look at each of the waterfalls we will feel the breeze which will bring some fresh drops to refresh our minds. We will hear the music of the running water as it falls, the music of its flow, the sounds of nature around us.
I already enjoy every bit of the happiness this kind and sweet gift will bring me.
My eyes become wet
As my love pours his love to me.
This is our website about waterfalls.
Be welcome to dive in it with us!
Touché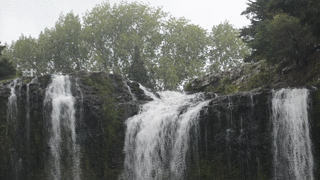 By way of introduction
My interest in photography began when I took a semi-automatic Minolta reflex camera on a trip to Morocco around 1975. With a Land Rover Defender that my friend Jan and I brought from London (left-hand drive, with an overdrive that could be applied to each gear, making shifting gears rather complicated...) we travelled the back roads of Morocco, into the mountain ranges of Middle Atlas, High Atlas, Anti-Atlas, some of the desert in the South, among Amazigh (Berber) villages with their uptempo music, women in colourful dresses, defiant moods, and beautiful nature.
Oum Er Rbia
My first photos of a waterfall were these, of the Oum Er Rbia falls near the source of this 'Mother of Springtime', in the Middle Atlas. Nearby is the beautiful Aguelmame Aziza lake (now in Khenifra National Park).
My love for -colour- photography grew during my travels to Asia, first to India (1994), then to SE Asia (Thailand, Vietnam, Laos). A Pentax MZ50 reflex camera accompanied me from 1999, we brought an old Sony digital camera to the Pantanal (Brazil) in 2010 and the next year we bought our first digital Nikon D3100.
Venta River
Now my spouse Touché and I photograph with Nikon digital cameras (D3100 and D5200) with a few interchangeable lenses. Waterfalls are still high on our wanted list. Sometimes they can be found in places where you expect them the least, like in Latvia, which after all is a country without much elevation.
Nevertheless, the Venta Waterfall in Kuldīga is supposed to be the widest in Europe, 249m, but it is only 1.8 to 2.2 meters high. The waterfall was formed in the Devonian (geological period 380 million years ago). Around 1640, the quite legendary Duke Jēkab (Jacob) wanted to boost trade by making the Venta River navigable. First, he tried to have the waterfall blown away by a French engineer, but they only succeeded in damaging the Duke's castle. Then the Duke ordered a canal to be dug that would circumvent the falls, but they stumbled on a very hard dolomite barrier. Almost 200 years later, the Russian Tsar Nicolas I tried in vain to revive the project.
In springtime,
vimba
(a bluenosed carp), and in olden times also salmon and sturgeon, try and jump up the waterfall to reach their breeding grounds upstream. The same Duke Jēkab placed wicker baskets on tripods at the falls to collect the jumping fish (and eat them). His very sportmanlike method stayed in use till the early 20th century.
Rio Mundo
In 2016 we made an interesting tour around Andalusia and were surprised at the seductive roughness of nature in many places in that part of Spain. Then, in Castilla-La Mancha (to the northeast of Andalusia), we found 'the birthplace of the world', or in Spanish 'nacimiento del (rio) mundo' in the
Parque natural de los Calares del Rio Mundo y de la Sima
near Ríopar.
The source of the river springs from a huge half circular 'cirque' formed by glacial erosion. The quantities of water emanating from the rocks are very impressive in the rainy season, like explosions of water and light, known locally as
el reventón
(blowout).
And then, there are films...
Films, made with our Nikon cameras... Like this one of the falls of the Rio Mundo.
All photos, movies, and texts (except those signed by Touché Guimarães) were made/written by Guy Voets, and everything is published under the Creative Commons BY-NC-SA license (attribution, non-commercial, share-alike).
Text in
brown
are links, either to another part of the website, or away from it. When marked with a *, the link goes outside, indicates where it takes you (e.g. wikipedia, youtube,...) in the left bottom corner of the page, and a new tab or page opens.